Binary offers full turn-key ASIC Service to customers. ASIC service includes ASIC specification definition, analog and digital circuit design, physical layout, IC characterization, field application support, ASIC production management and supply, etc.
Binary will keep confidentiality for every ASIC Project and will be responsible for the quality of ASIC shipped to customers.
ASIC has many advantages:
Better IP Protection
Bring Innovative Idea to your product
Improve the performance and reliability
Lower the power consumption
Reduce the bill-of-material costs of your product
Reduce the test and assembly costs
Reduce the size and weight of your product
A complete ASIC Development Flow includes the following phases.
ASIC Specification Drafting : Binary will work with Customer to investigate the feasibility of developing a new ASIC and will draft the ASIC specification together.
IC Design : Binary will design and layout the ASIC according to the ASIC specification.
Prototype Production : Binary will work with vendors to manufacture the engineering prototype for customer's evaluation.
Pilot Production : Binary will supply few hundreds ASIC for customer's pilot production.
It takes around 4 to 6 months to complete the ASIC Development Flow.
ASIC Development Flow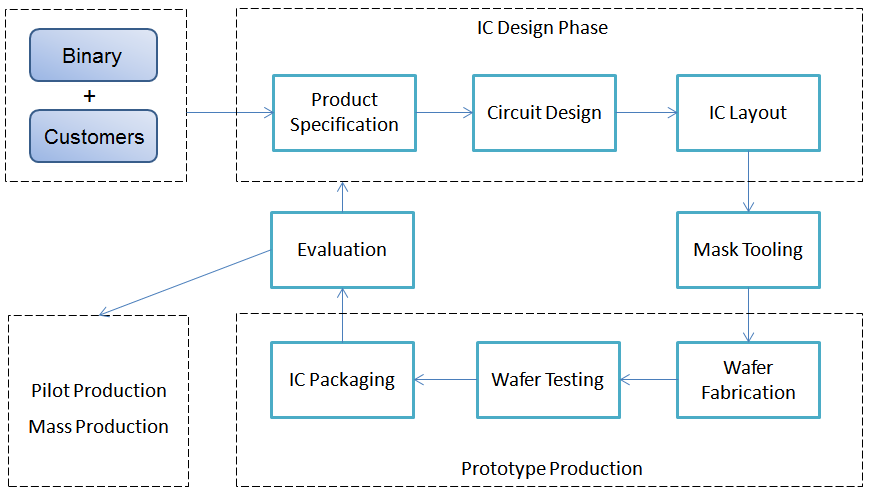 After the ASIC Development Flow is completed, Binary will supply the ASIC to customers upon receiving the customer's order.
Binary will produce customer's ASIC in following ASIC Production Flow.
Wafer Fabrication : Binary place wafer order to wafer foundry for wafer production.
Wafer Testing : Each IC on wafer will be probed and tested to ensure the ASIC is produced according to the ASIC Specification.
IC Packaging : Each IC will be packaged and tested again in IC packaging plant before shipping to customer.
The complete ASIC Production Flow takes around 3 months.
ASIC Product Flow